In 2021, Purple announced the capability for businesses to sponsor advertising space on its WiFi access journeys that are seen daily in over 65,000 venues across the globe to a network of over 1 million end users!
In this blog, we're going to look at the benefits of Purple's WiFi Sponsorship program and how exactly it compares to common advertising channels and ad agency services.
Intro to what WiFi Sponsorship looks like
In this graphic, you can see the available advertising space up for grabs. It's worth noting businesses that choose to use this service can also implement ads through a 3rd party organization.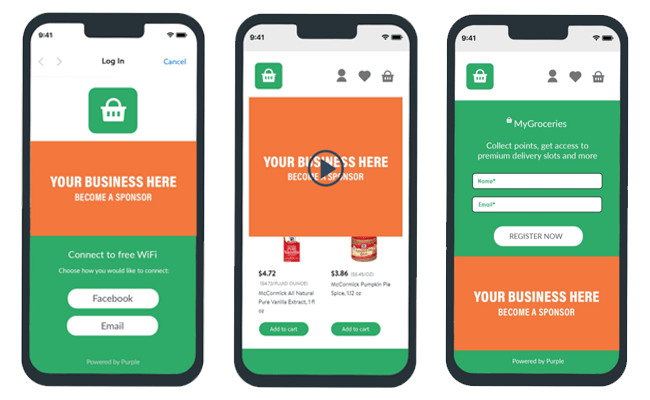 Static ad placement on the offline splash page – This advertising space allows businesses to promote their offers as users enter their details and start their journey of connecting with the venue WiFi.
Interstitial video – Just like you've seen on YouTube! Interstitial ads are presented to users during the second stage of the access journey and must be watched for at least 5 seconds before the user can skip or click.
Static ad placement on the online splash page – Now end-users are online, businesses are presented with a third and final opportunity to convince end-users to visit their website and convert.
What are the benefits of WiFi Sponsorship?
Benefit 1 – Accurate audience segmentation
With a user base of over a million and a marketing opt-in rate of 80%, Purple is a gold mine for businesses looking to reach their desired audiences. As end-users log in to the WiFi at one of Purple's venues, they are presented with an access journey that not only collects first-hand data but also informs individuals of important news and promotions.
During the start of the access journey, end-users are asked if they'd like to receive marketing from the venue to improve their experience and stay up to date with any offers and news. As we already mentioned, 80% of Purple's end users are receptive and open to receiving communications and experiencing new experiences.
Benefit 2 – Better bang for your buck
Having removed the stress of hours of scrutinous targeting setup, it's time to find out how much WiFi Sponsorship will cost.
Unlike regular social media, search engines (Pay Per Click), and agency advertising channels businesses that are a part of Purple's WiFi Sponsorship aren't gambling with budgets or the hope of their ads being seen at all. WiFi sponsors are guaranteed to have their offerings displayed to an intended audience, this is because end-users must view the access journey to get online.
How does this work? Advertising campaigns are delivered to audiences based on the preferences of end-users. The likes and interests of visitors are all gathered during the access journey while they get online.
Benefit 3 – Right place, right time
Now that we know that WiFi sponsors are guaranteed a receptive and relevant audience, let's find out how we guarantee their attention.
Unlike social media, search engines, or even physical advertising there is no risk of targeted audiences not seeing your advertisements. Typically with social media advertising, there is an element of luck hoping the audiences or locations chosen will prove to show an interest in what your business has to offer, the same here can be said for search engines. The average CTR for AdWords on the Google search network is 3.17% for example, the reality is if you're not positioned on page 1, 75% of potential consumers won't see you at all.
With a range of advertising placements across our access journey, WiFi sponsors have 3 opportunities to redirect end-users to their website which can't be scrolled past or missed.With a range of advertising placements across our access journey, WiFi sponsors have 3 opportunities to redirect end-users to their website which can't be scrolled past or missed.
Benefit 4 – No competitors… really?
It might seem too good to be true, but let us reassure you that it's not!
Typically with regular digital advertising channels businesses have to fork out large budgets just to compete for a few seconds on someone's timeline, or expensive cost per click for "high value" keywords, as stated in the previous benefit, if you're not on page 1 there's not much point in competing at all.
With Purple's advertising network, businesses are provided with exclusive access to their selected audiences during the course of their campaign. This ensures every penny spent is accounted for, there's a clear ROI at the end of the campaign, and conversion insights gathered from website redirects provide businesses with a better understanding of how audiences react to different messaging and content types.
Benefit 5 – No training required
In this section let's get straight to the point – we can get your business's campaign live in a matter of days.
With typical social media and search engine advertising, businesses require the expertise of in-house marketers or expensive agencies. The need to hire an individual or an agency to create your offerings in a range of formats and across multiple channels takes time and money, especially if this has to be outsourced to an agency. After all this, the time required for those tasked with advertising to set up, track spending, and gather and segment reports can sometimes lead to more effort than the result was worth.
With WiFi Sponsorship, Purple works with you directly to quickly create your desired audience, forecast click-through rates, and a total cost. Kicking off with a 30-minute call to discuss insights and goal setting Purple can prepare all necessary technical requirements ready for creatives to be added and published.
Conclusion
Let's wrap this up! When looking for the best solution to advertise to desired audiences multiple variables need to be considered:
The end goal: Are you looking to boost brand awareness? Drive new revenue? Gather market research?
Cost & Return: When outsourcing advertising how much are you willing to spend and what is your business looking for in return?
Can it be re-used?: Finding a tried and tested channel that can be re-used with confidence.
With Purple's WiFi Sponsorship program, businesses are guaranteed to have their advertisements put in front of the relevant audience segments that sponsors want to target, and with 3 quick forms of content, the process to launch is rapidly sped up. Whereas with typical advertising agencies, businesses will need to go through a long process of goal setting, multiple content reviews, and monthly performance run-throughs.
With Purple's WiFi Sponsorship program this process is rapidly sped up, to quickly clarify KPIs, get content live, and all at a low cost.
If you'd like to find out about Purple's WiFi Sponsorship program take a look at this page and sign up for a call: https://purple.ai/lp/wifi-sponsorship/