We want to make it as easy as possible for customers to drive success through the Purple platform. With this in mind, we have decided to introduce a complete managed service offering as part of our existing professional services.
Introducing Purple's managed service
Purple's managed service is a new offering dedicated to supporting customers whatever their requirements. From tech expertise to marketing know-how, our managed service has you covered; helping you generate value quickly and deliver ROI on your WiFi analytics investment.
The service is available to all customers with an Enterprise license. You will be assigned a dedicated account manager who will work closely with you/your team to help you achieve your goals.
What's included?
Account creation and configuration
Manage portal user access & permissions
Splash page design
Access journey design
Portal training
Marketing campaign activation
Marketing consultancy
Custom dashboard configuration
Automated report scheduling
Data science
For a full breakdown, please click here: Purple's managed service.
The golden ticket
In addition to the launch of our managed service, we are also giving away a professional services voucher to all new customers who sign with Purple before January 31st, 2020.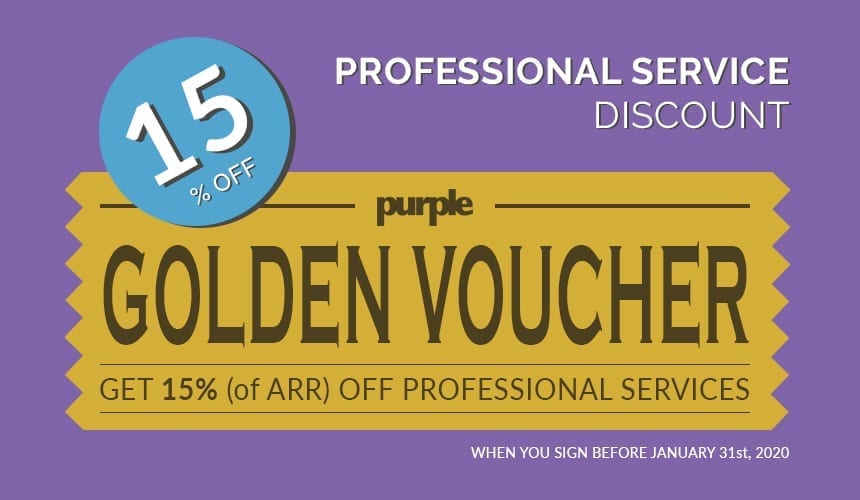 The value of the voucher will equate to 15% of the total ARR achieved.
So, if you sign a deal worth $50,000 in ARR, you will receive a professional services voucher for $7,500.
That's a lot of professional services (in fact, it's enough to take complete advantage of our managed service), and given that the idea behind professional services is to drive success through the Purple platform, we think you'd be silly not to at least think about it.
For more details on any of the above, please contact your Purple account manager, or get in touch via our contact form.