Improving customer engagement and increasing revenue has always been at the forefront of any marketeer's mind, but how often do these methods last before a new solution is required?
Purple's new 'Revenue Sharing Program' is introducing a new way for customers to create additional revenue streams that come at no extra cost! Too good to be true? Keep reading to find out.
What is the Revenue Sharing Program?
For existing and new Purple customers the capability of using WiFi advertising to promote products or services in-store is nothing new. Through the capabilities of Purple's marketing automation tool, Logicflow, customers can include advertisements at any stage of their visitor access journey.
Despite this capability having always been available, not all customers have the time or resources to find brands that want to advertise on their WiFi access journey. This is where the Revenue Sharing Program can help both utilize the space to generate a new source of revenue, and additionally improve the in-store customer experience.
Purple customers that take full advantage of our access journey advertising for internal purposes are able to join the Revenue Share Program and benefit from Purple selling their space as a platform for non-competing brands. These brands can then advertise their products and services directly to a highly relevant and reactive audience.
How does WiFi sponsorship work for Purple customers?
As we've already mentioned, our customers have to do little to no work to generate this new revenue stream and at no extra cost. So how does it actually work?
It all starts with having a relevant audience
With Purple's analytics platform, our customers are gathering insights on their visitors each time they access the guest WiFi. The gathered insights are highly valuable for building customer profiles, direct marketing, and brand loyalty. But they're also important for 3rd party sponsors.
We do all the leg work
To ensure our customers don't have to spend their time or resources in finding relevant sponsors, Purple will look for non-competing brands that will have an interest in the insights our customers have collected. We can also approach our customers' existing supplier relationships for third-party, relevant advertisements campaigns.
Once a potential sponsor has been found, Purple works with the brand to clarify its desired audience, advertising objectives, and estimated costs per action.
Advertisement placement options and type examples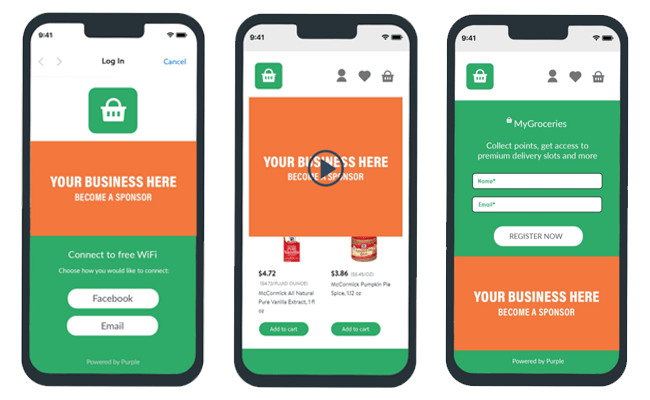 Once the brand has clarified with Purple the objectives and creatives for the duration of the sponsorship, we will then implement the advertisements within our customers' access journey. Just like any other ad platform, the brand will be charged based on the actions of end-users such as clicks, or competition submissions.
Sit back and watch the revenue roll in
As Purple takes care of each stage of the process, our customers will be able to see a clear addition to their revenue as new and existing patrons visit their stores, and are targeted with the personalized sponsor ads.
What are the benefits for brands?
The overall benefit for brands to sponsor these spaces is knowing that their ad spend will be delivering personalized messages to the right audience, every time. Additionally, having ads that are being delivered directly to the right audience will encourage savings on other sites such as social media advertising and search engine ads.
No risk of undelivered ads
41% of consumers use an ad blocker extension on their device, meaning less than 60% of ad efforts won't reach the target audience.
As access journeys have built-in advertisement slots every visitor login will have ads displayed. This shows that WiFi advertising is highly valuable as marketing efforts are guaranteed to reach the right audience, every time.
Targeting the right audience every time
55% of companies are integrating personalization in their campaign concepts and 56% of them are optimizing ad delivery with first or third-party data.
Businesses are using Purple's analytics software every day to gather insights on their customers which consists of first and third-party data. Which potential sponsors find highly valuable when looking to personalize their marketing efforts.
No competing with other brands for visibility
64% of brands are planning on increasing their PPC budgets in the next 12 months.
Increased spending will inevitably increase marketing costs for every business. As keywords become more expensive to target businesses will struggle to break through the noise of competition and will see little return on investment. As spending increases, the opportunity for businesses to have their ads pushed to an exact and relevant audience, will be viewed as highly valuable.
What are the benefits for businesses?
There are a number of successful outcomes for Purple customers that use this feature, but what are they?
Targeted offerings that can influence purchase decisions both online and in-store
Increased revenue through return on investment, and additional purchases
Higher purchase values per basket as products ads are delivered for specific audiences.
What are the benefits for end-users?
Customers get a personalized experience online while in a physical location
Non-intrusive ads that can be closed after a set time which puts the customer experience first
Products that end-users are interested in, and may not know about, are displayed in real-time making their visit as smooth and engaging as possible
Proof of advertising ROI
Retail
One Purple customer which operates within the retail sector was able to use interstitial videos to promote their products and services during their location events.
Through a combination of Purple's built-in marketing automation tool Logic-flow, and planning in the weeks prior to each event, our customer was able to make sure ads were delivered at the right time.
By making the most of this advertising opportunity the business was able to gain an additional £23k per event!
Pharmaceutical
Another Purple customer which operates within the pharmaceutical sector was looking to generate a clear ROI from Purple's solution by utilizing the marketing and sponsorship functions available.
This Purple customer chose to sell their access journey advertising space to sponsors which wanted to promote tailored adverts by specific demographics.
By making the most of the advertising and sponsorship opportunities, this customer saw a total return on investment greater than 600%!
How to get started
If you want to make the most of our access journey capabilities to advertise your own brand, reach out to our Customer Success team to find out more – customersuccess@purple.ai