Here at Purple we understand that users consume information differently. So with this in mind, over the last few months, we have made some significant changes to our training content and how it can be accessed. 
Before we jump into the changes, I just want to clarify that we still offer:
1-2-1 or group training onsite or at our offices (Professional Service)

1-2-1 or group training via Webex
So, what's changed? 
Bitesize training modules 
The training has been split into smaller bitesize modules ranging from 4 – 13 minutes in length; making the content easily digestible for users.
There are now 23 modules available to access, which includes four hardware videos covering the Purple set up process for enterprise and non-enterprise software. 
Additional content
In recent months, we have developed a number of new features within the portal including My Reports, My Dashboard and Analytics. These new features are now covered at length in our training content.
Device types
Our training content is now supported on all device types so users can access the training whenever it is convenient for them no matter what device they are using. 
Monthly webinars
We have introduced monthly training webinars which cover specific features within the platform. This will also include support from our customer success managers.
Spanish content
LATAM Spanish is coming very soon to support our growing base of resellers across the region. 
Accessing the content
Within the portal, all resellers have access to our e-learning platform, LearnUpon. To access LearnUpon, click the training option from the left-hand menu within our live product (any region).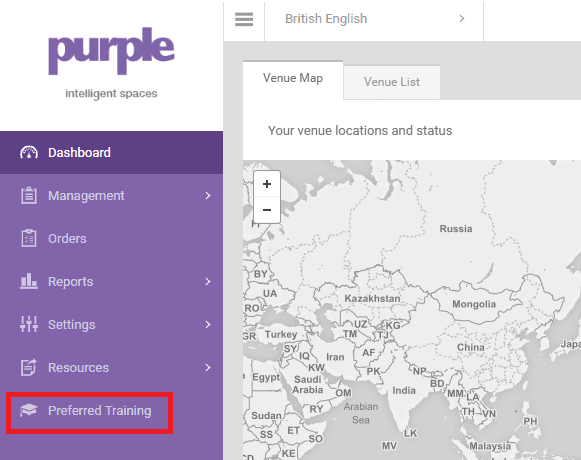 LearnUpon will automatically create a login using your portal login details and enroll you onto the learning path.
The modules are completed in order and you will be tested after each module has been completed. The training modules are also available in the Training Catalog within LearnUpon, this allows you to enroll onto any course, at any time.
Purple support
Our support site is also packed with lots of useful information, including hardware guides, FAQ's, GDPR information and general user guides.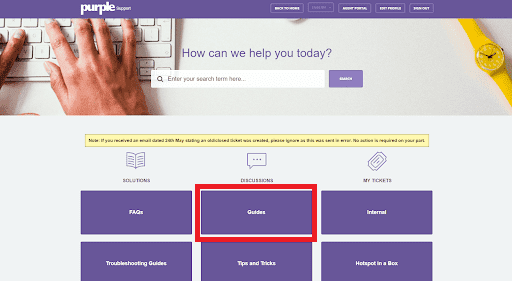 Within the guides area, highlighted above, customers are now able to access full product training videos and guides. This includes training videos for all features within both our legacy and new portal.
For more information about Purple training, please contact Dominic Bardsley on dominic.bardsley@purplewifi.com.