Technology has been used as a tool that aids and improves performance in the retail industry for a large amount of time now but the COVID-19 outbreak has prompted retail stores globally to look for technology to help them improve safety as well as operations.
The coronavirus pandemic has shifted the focus towards keeping visitors and staff safe in retail environments, rather than just using technology to help understand customers/visitors.

In the UK, the re-opening of stores will challenge retail leaders to prioritize physical safety without compromising customer service, whilst over in the US, this is something that is already being looked at seriously.
Instore traffic control
Prior to COVID-19, retail businesses invested in Indoor Positioning System (IPS) technology to better understand how store layout impacts the visitor journey and for improving store efficiency.
The goal of collecting and analyzing IPS data is to create the most efficient, seamless journey for visitors to find exactly what they need and maybe a few impulse buys during their time in store.
In today's world, retailers do not want lines of disgruntled customers waiting to checkout or pick up an order, generating potential for social distancing issues.
In the new normal, store layouts can still be adjusted to optimize the visitor experience, but going forward, the priority will be ensuring store design considers occupancy limits and social distancing measures.
Monitoring overcrowded, under-utilized pathways and bottlenecks at certain aisles or displays enable retailers to thoughtfully adjust their store layout to make it a more accessible and safer place to be.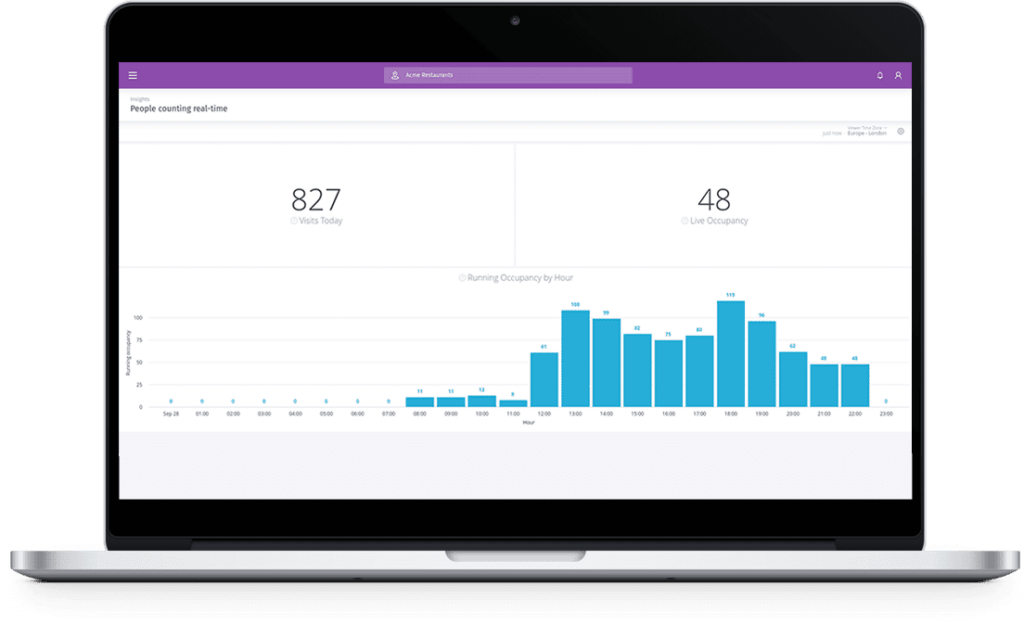 Video Shopping is the new thing
Video shopping is another key investment area for retailers, with remote shopping assistants becoming more and more popular since the global pandemic.
In China this has become a massively popular way of shopping, with shopping influencers beginning to make this a viral trend.
Video calls, which for most of us have become the normal during the CV-19 outbreak, allows customers to have a unique 1 to 1 experience where they can communicate with staff and ask questions about a product, ensuring that it's right for them.
According to Computer Weekly, video based company Goinstore have seen a 800% increase in demand for their technology since the UK lockdown, with the likes of Mamas & Papas, Currys PC World, Brompton Bicycles, Sofology and Ernest Jones all using video to engage with online shoppers.
Automated door access
Many retail venues have implemented a one-in-one-out strategy, where a member of staff stands at the entrance to control the flow of visitors in and out of the store.
This ensures they do not exceed their maximum 'venue density' and it gives everyone inside the best chance of being able to adhere to social distancing guidelines.
However, recording this data manually is not ideal, nor efficient. Not only are many businesses having to employ additional members of staff to assist, but it's slowing things down – impacting the customer experience – and human error means mistakes are inevitable.
This is why many businesses such as Aldi in the United Kingdom have implemented automated traffic light systems across their stores.

This technology uses existing 2d and 3d sensors such as security cameras, to automatically count visitors in and out of the venue.

This data can be connected via api to traffic light systems or display screens that show the number of people currently in a venue, and if it's safe to enter or if the visitor must wait.
Using our technology to automatically control the flow of visitors in and out of your venue means queue management becomes extremely efficient.
Venues are no longer reliant on a member of staff manually counting visitor numbers and estimating how many people can enter.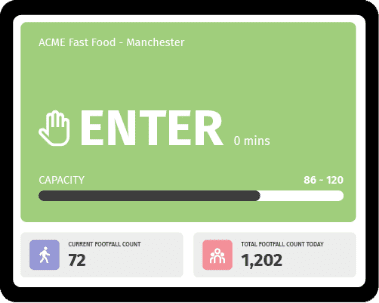 Touchscreen protection
Touchscreens are everywhere you look in retail and other verticals, we just can't get away from them.

And as fantastic as this technology is, it does pose some health and safety concerns for many users, especially since the coronavirus pandemic began.
Companies such as Kastus have been producing antimicrobial coatings for screens for many years but have now developed a version which offers protection against coronavirus.
In an interview with Forbes, founder John Brown said "These high touchpoints represent areas of high risk for the spread of infection and cross-contamination. Kastus's unique antimicrobial technology has been proven effective against human coronavirus and is helping people to return to normal life while enabling businesses to reopen safely, protecting their customers and their employees."
For some countries retail stores are back open and for others still waiting to re-open, but both have one common goal, its to ensure the safety of their customers.
Deploying the right type of technology in a smart way can significantly reduce the risk for both your employees and customers and will be imperative to business success as we emerge from the global restrictions caused by the pandemic.
Found this blog useful?

Check out some of our other blogs