Start your career at Purple
We are always on the lookout for talented individuals to join our growing team. Please see our open vacancies below
Active Roles
Loading active roles...

Working at Purple
At Purple we're on a mission to make sure physical spaces thrive. With our solutions in over 60,000 venues worldwide, we specialize in delivering indoor location services solutions for healthcare, retail, hospitality, attractions, and transport. We do this to help businesses grow, increase customer loyalty, and enhance visitor experience.
Our values are at the heart of what we do and we're all about getting the job done whilst having fun with no BS and no politics. We're a remote first business with flexible working but we make sure that doesn't take away from our culture. We get together face to face regularly to drive innovation and collaboration including our annual Global Kick Off.
You'll also get the chance to take part in our quarterly themes with great rewards that we enjoy together to celebrate our success. We're all about development and embedded within the business is the value of know your stuff, keep learning which means we support our employees to continuously develop their knowledge and skills. You really won't regret taking the next step in your career by helping turn the world Purple!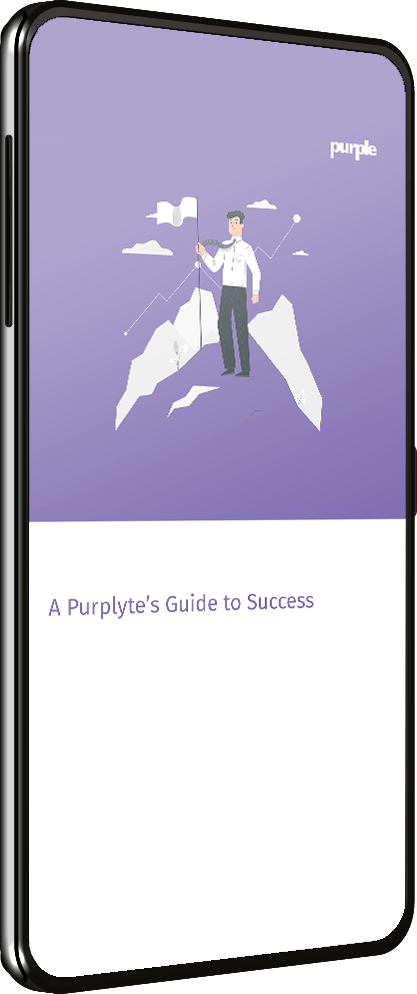 A
Purplyte's

guide to success!

Want to know what it means to be at Purple? Take a look at our culture deck.

Download Now!
Make it happen
Our team are committed to doing whatever it takes to 'make it happen' by working together and thinking of innovative solutions every step of the way.
In it together
Regardless of their role, each individual at purple has one common goal, turn the world purple. Everyone is available to help each other.
Playful and positive
Life's too short to take things too seriously, we like to have fun while we're working and we love positivity - and yes the glass is half full.
No drama
Things don't always go to plan as much as we try, having a tantrum over it won't help the situation and you won't find that here.
Know your stuff, keep learning
Every day is a school day. We value people who have the knowledge and have a thirst for it, lots of it.
With great data, comes great responsibility
Personal data is a big thing, particularly when you are the custodian of a lot of it, we take that very seriously.
No bullsh*t, no politics
Seriously, we all enjoy coming to work here and that stuff makes it unpleasant.