Track and navigate

to your assets in real-time
Improve your visitor experience, prevent the misplacement of assets and enhance your staff efficiency with Purple Asset Tracking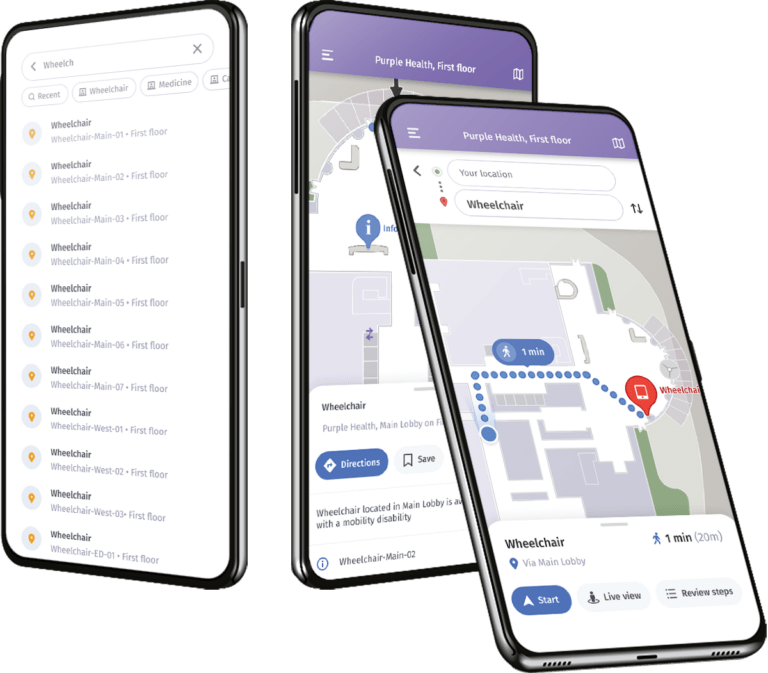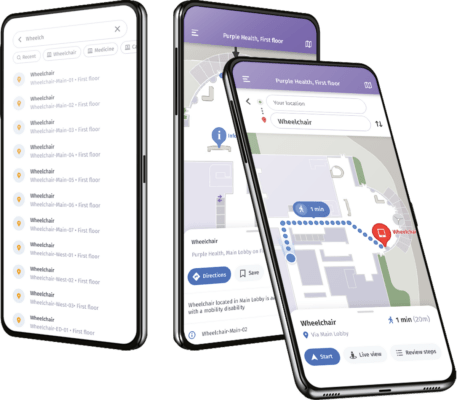 How does
asset tracking

work?
Tag your items
Purple is hardware agnostic and works with a large variety of asset tags
Locate and find
Locate your assets on the map view or search function in real-time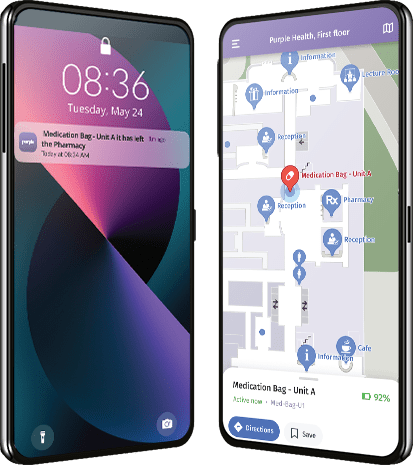 Navigate to assets
Get the quickest route to your assets
Create alerts
Use geofencing to be alerted for when these items move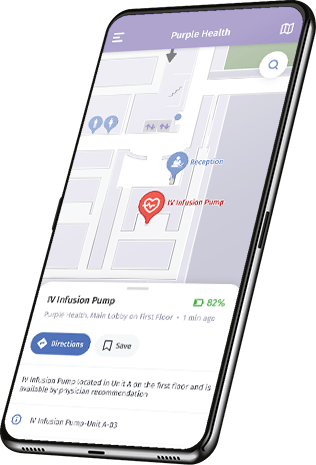 Locate your assets in
real time
Find your assets whenever you need them. With Purple Asset Tracking, you can locate assets in real time on the facility map, using either the search function or map view. Watch them in real-time, identify where more equipment is needed and prevent theft or misplacement.
Track high value equipment to reduce surgery postponements
In recent years, 10-20% of hospitals' inventory or assets and drugs goes missing
Watch your assets move around your facility in real time
View your assets using the map view or search specifically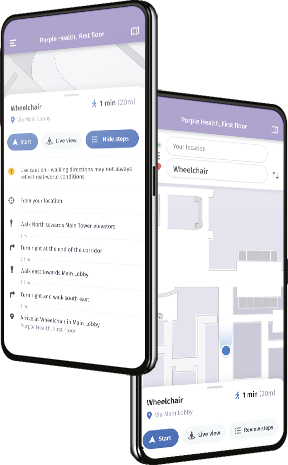 Navigate to your assets
quickly and easily
Use Purple's highly accurate wayfinding software to navigate to your asset with turn-by-turn directions and blue dot around the healthcare facility to ensure the asset is located as quickly and efficiently as possible.
16% of healthcare facility searches for assets end in missing equipment
Allow staff to focus on immediate care rather than searching
Create turn-by-turn directions to your assets
Locate assets quickly and efficiently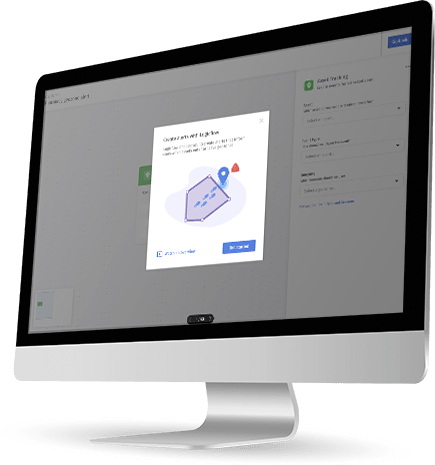 Real-time
geofence

alerts

Utilize geofencing to alert staff immediately should an asset leave or enter a specific area. With fully customizable geofencing, staff can choose to be notified as soon as an asset or drug trolley leaves an area and arrives at another location, to ensure that it is not misplaced and to help prevent potential theft.

Notify staff as soon as an asset leaves an area or arrives at another

$800 million worth of drugs go missing every year in the US

Prevent theft or misplacement

Customize geofences to be notified immediately
Ready for a demo?
Speak to one of our asset tracking experts
Frequently Asked Questions
Asset tracking is the process of monitoring and managing physical assets throughout their lifecycle, providing real-time visibility to optimize utilization and prevent loss.
Asset tracking involves tagging assets with unique identifiers, collecting data through tracking devices, and using a centralized platform for real-time monitoring and decision-making.

Real-time asset tracking involves continuous monitoring and immediate updates on asset locations, enabling quick decision-making and efficient operations.

A Bluetooth asset tracking tag is a compact device using Bluetooth technology to track assets' locations, ideal for indoor settings and efficient asset management.