Real-time
indoor digital navigation

that's proven to improve the visitor experience
Seamless turn-by-turn navigation, guided by blue dot technology in our wayfinding app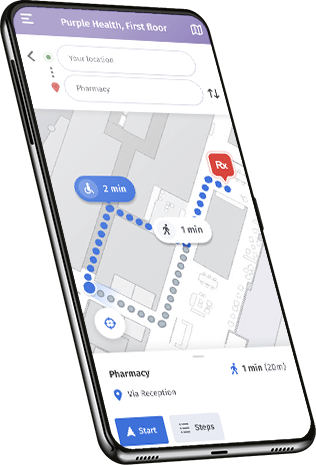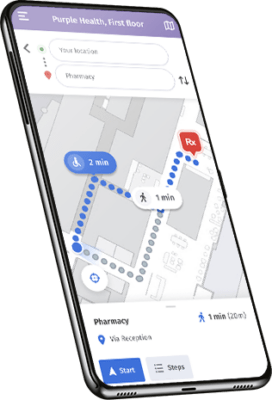 Appointment or meeting reminder
Visitors can receive a link to their destination through an appointment or meeting reminder
Integrations for travel
Integrated with lift share apps like Uber, Lyft and navigation apps like Google Maps and Waze
Accessibility options
Options provided for alternative routes for those with accessibility needs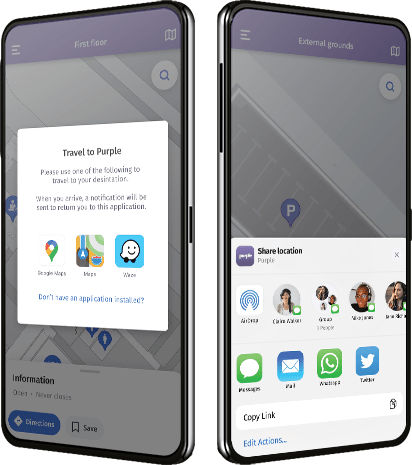 Intuitive turn-by-turn route
Just like Google Maps for indoors
Seamless navigation
A seamless transition between buildings, using elevators and parking
Arrive at the destination
Ask visitors to rate their directions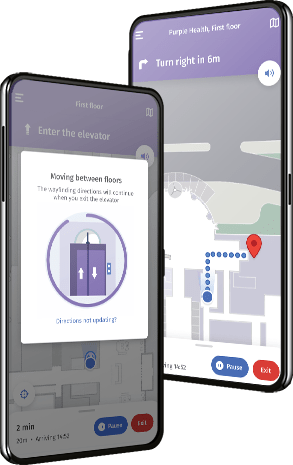 Seamlessly
navigate visitors

around your venue

We can help with even the most complex of venues. The blue dot travels with your visitors, even if they're changing floors or buildings, so they're always ready for their next steps. Users don't even need a phone signal or WiFi due to our Bluetooth solution. And if your guests go off-route, we'll automatically reroute them to get them back on track.

Change floors, buildings without a break in navigation

Bluetooth solution means visitors don't need a phone signal or WiFi

Automatic rerouting if users go off route

Guide your visitors around your space seamlessly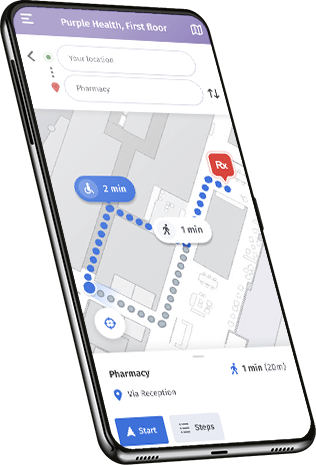 Provide for those with
accessibility needs
1 in 4 adults has an accessibility need. When navigating around your facility, our wayfinding provides options for those requiring alternative mobility-aid-friendly routes. Our user interface follows the WCAG 2.0AA guidelines for colors, contrast levels, fonts, and a responsive design for all device types and keyboard accessibility.
Create more accessible routes to meet your visitors' needs
Users can zoom in up to 300% without the text spilling off the screen
Listen to most of the website or application using a screen reader
Meets the WCAG 2.0AA guidelines for colors, contrast levels, fonts, and a responsive design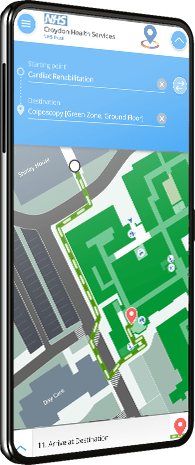 Increase
staff efficiency

with fewer disruptions

When visitors get lost, they interrupt staff to help them navigate their way around. With fewer distractions, staff are able to work more effectively, making them more organized, focused, and satisfied with their work.

The average length of staff disruption by visitors asking for directions is 10 minutes

Reduce staff interruptions by allowing guests to navigate themselves around

Without distraction, staff are more efficient and productive

Save hours of staff time within a week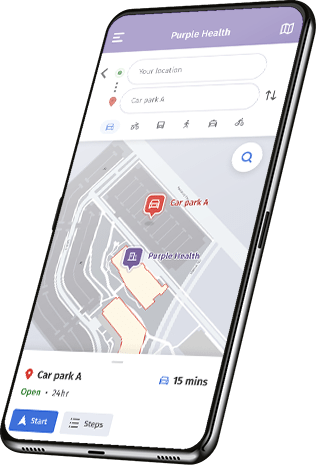 Navigate from
off-site to a specific room

in your venue

More than a billion people per month use Google Maps; the most popular smartphone app ever. Our wayfinding solution integrates with Google Maps so you can start your journey to a room from any location. We're also integrated with popular lift-share apps, like Lyft and Uber. Once your users reach your building, they'll switch back to your app and direct them to their destination.

Integrated with Google Maps mean you can start your journey from anywhere

Use popular lift-share apps like Lyft and Uber

Navigation apps are the most popular smartphone apps ever

Navigate to a specific room at your destination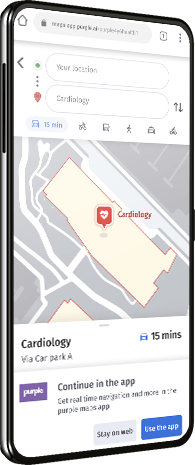 Maximize your wayfinding budget with our
geomagnetic technology
Our geomagnetic technology means we'll use 85% less hardware than other wayfinding solutions. We use natural geomagnetic fluctuations, BLE beacons, and WiFi to pinpoint a user's location within feet.
Patented geomagnetic technology
Utilizes 85% less hardware than other solutions
Ready for a demo?
Speak to one of our wayfinding experts
Wayfinding RFP Checklist
Use our helpful free wayfinding RFP checklist to ensure you know what you need from your wayfinding vendor
Indoor Location Services Maturity Model
How well is your venue meeting visitor needs? Find out with our free scorecard
Croydon Health Services: Reducing Missed Appointments
Find out how Croydon Health Services saved £730k in missed appointment costs
GPS signals do not work well indoors due to obstruction from structures, however Purple's combination of WiFi positioning, Bluetooth beacons, and the Earth's magnetic core provides highly accurate indoor navigation.
Wayfinding is crucial as it enables people to navigate complex environments like airports and hospitals with ease, reducing stress and enhancing the overall experience. Effective wayfinding can lead to increased customer satisfaction and improved efficiency for businesses.
Indoor navigation utilizes technologies like Bluetooth beacons and WiFi positioning to provide guidance and location-based services within buildings where GPS signals are limited.
Wayfinding means using navigational cues and aids like signs and maps to help individuals find their way in a specific environment, whether through physical signage or digital tools like interactive maps.
Indoor navigation is the process of navigating within buildings and enclosed spaces using specialized technologies like mobile apps and interactive kiosks to assist people in finding their way.