Interactive wayfinding kiosks

to help visitor navigation
Reduce staff interruptions and create a great visitor experience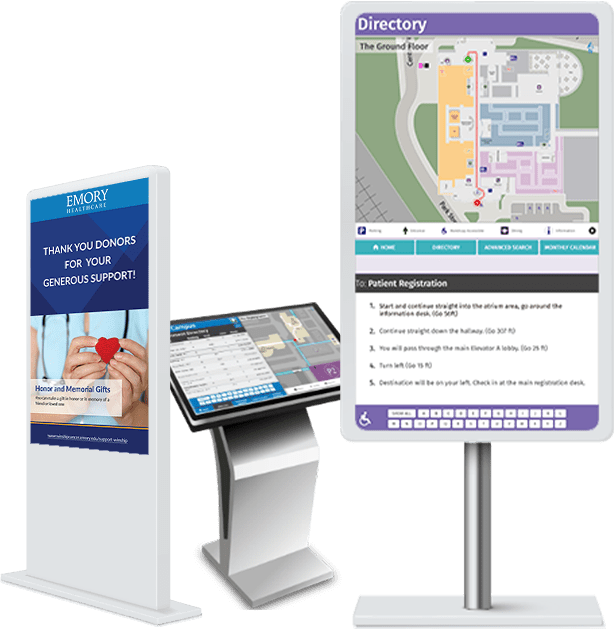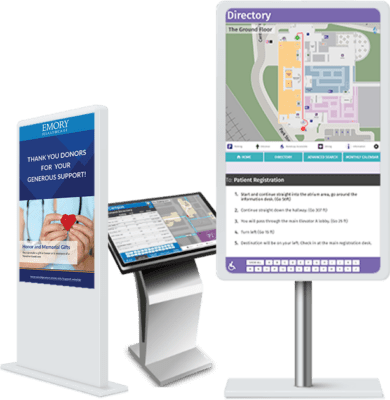 How our
wayfinding kiosks

work
Greet your visitors
Visitors will be greeted in the entrance area with kiosk screens to assist them straight away
Route planner
They'll then enter their destination and be shown the most efficient route for their needs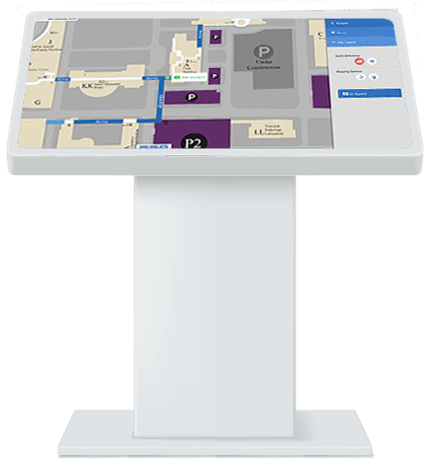 Print route option
Visitors can print off the turn-by-turn route if needed
Arrival at destination
Visitors get to their destination on-time and stress-free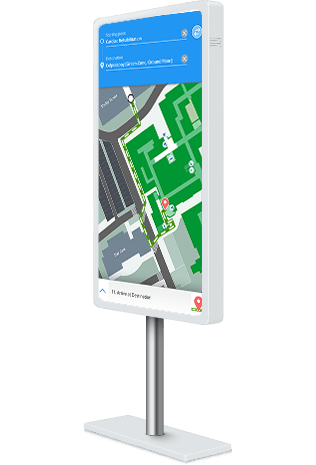 Increase
staff productivity

with fewer disruptions

Visitors getting lost means more staff are interrupted as they ask for help to find their way around. Fewer distractions mean your staff are more productive, organized, and focused on their work.

10 minutes is the average length of staff disruption by visitors asking for directions

Ensure your staff have fewer distractions

Clear signage reduces visitor disruptions and helps staff stay focused

Reduce staff time spent giving directions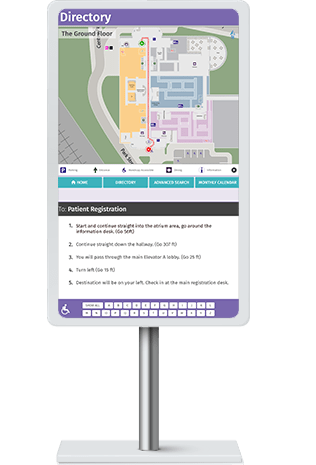 Create a
great experience

for visitors

Give your visitors the information they need while they're in their venue to enhance their experience. Interactive kiosk maps can display information about a point of interest when clicked or tapped on, such as opening times or stock levels, so your users can engage with your venue.

93% of people are likely to make repeat visits with companies who offer excellent customer service

Display information about a point of interest for your visitors to enhance their experience

Access details like opening times and stock levels with a simple click or tap on the interactive map

Keep users informed and engaged while in your venue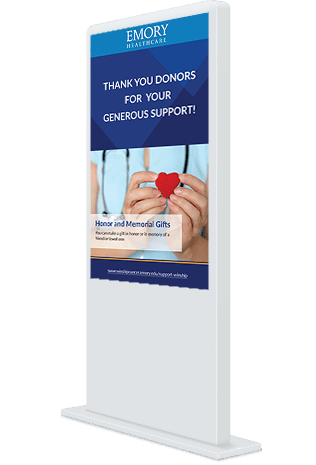 Maximize
communications

and advertising space

Get messages to your visitors quickly and easily around your venue. When your kiosks are not in active use for wayfinding, they can be used for advertising and marketing communications to your visitors.

Generate revenue from advertising sales

Advertise offers and promotions when the kiosk isn't in use

Seamlessly deliver messages to visitors via strategically placed kiosks in high-traffic areas

Rapid and efficient communication with visitors throughout your venue
Ready for a demo?
Speak to one of our wayfinding experts
Wayfinding RFP Checklist
Use our helpful free wayfinding RFP checklist to ensure you know what you need from your wayfinding vendor
Purple Indoor Location Services Maturity Model
Find out how well your venue meets your visitors' needs with our free scorecard
Croydon Health Services: Saving Staff Time
Find out how Croydon saved over 80k hours of staff time with our wayfinding solution
Frequently Asked Questions
Creating a wayfinding map involves gathering accurate information, choosing suitable map-making tools, designing the map with wayfinding elements, and publishing it for use on websites, apps, or digital signage.
An interactive wayfinding map is a digital navigation tool that provides dynamic, personalized directions in response to user interactions. This user-centric feature enhances the efficiency of navigation and improves the overall user experience.
Wayfinding signage is a system of physical signs strategically placed within environments to guide people through complex spaces and improve their overall experience.

An interactive wayfinding kiosk is a user-friendly digital system that offers personalized navigation assistance through interactive maps, commonly placed in high-traffic areas for intuitive and efficient wayfinding.

A wayfinding kiosk is an interactive digital device that offers navigational assistance and information about points of interest within a specific area, ideal for improving wayfinding in large and complex environments.