Stop people getting lost

in your venue
Get visitors where they need to be, reducing staff interruptions and providing for those with accessibility needs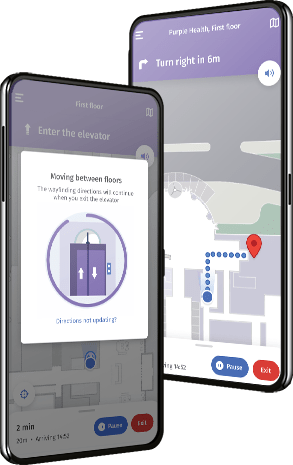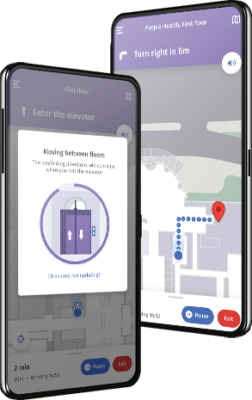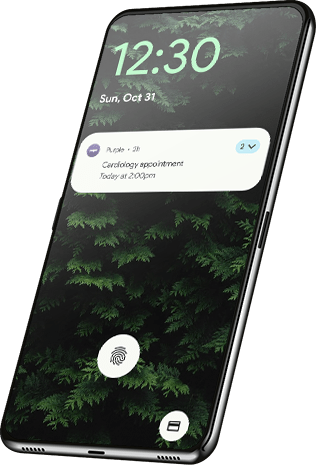 Get visitors to
where they need to be, on time
Visitors to large, complex venues frequently get lost. This causes them to be late to, or miss appointments, increasing anxiety and decreasing their experience. Digital wayfinding provides visitors with turn-by-turn routes from off to onsite as well as around your venue, to get visitors where they need to be, on time.
Prevent visitors from getting lost in your venue
Visitors can plan their routes from home to the room of their appointment
Give visitors turn-by-turn directions around your venue
Help visitors to be on time for appointments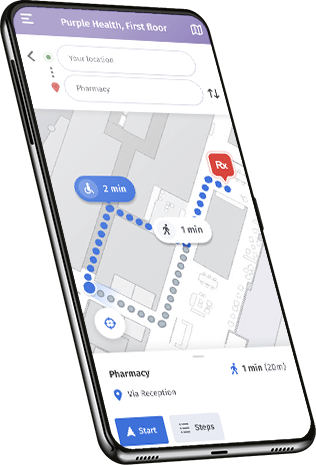 Provide the best route

for those with accessibility requirements

With 25% of US adults having an accessibility need, it's crucial you ensure your venue meets their requirements. Visitors using Purple Wayfinding can select mobility-aid-friendly turn-by-turn routes around your facility. Our fonts, contrast levels, colors, and responsive design all meet WCAG 2.0AA guidelines, to ensure everyone has an improved experience in your venue.

1 in 4 adults have an accessibility need

Provides mobility-aid-friendly routes

Fonts, contrast levels, colors, and responsive design all meet WCAG 2.0AA guidelines

Meet the route needs for everyone in your facility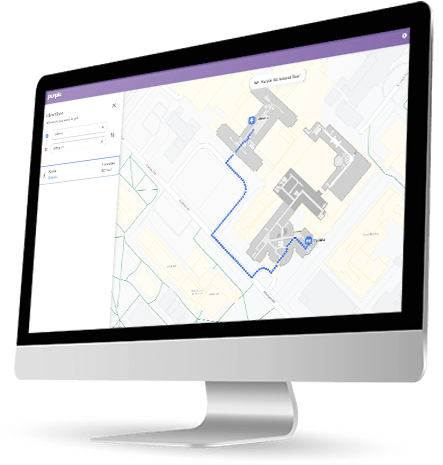 Reduce
staff interruptions
Lost visitors ask staff for help, wasting their time and causing interruption to their work. The average interruption for directions lasting 10 minutes, making staff unfocussed and distracted.
Reduce staff interruption by lost visitors
Average staff interruption time is 10 minutes
80k hours of staff time saved by Croydon Health services using Purple
Allow staff to be more focussed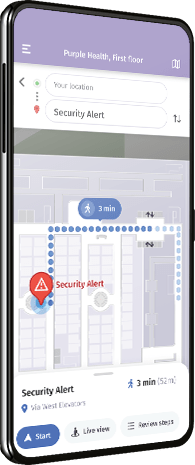 Increase new
staff efficiency and productivity
New staff find it difficult to navigate around new and ever-changing buildings. Purple's wayfinding not only helps visitors self-navigate but also helps staff using staff-only maps showing areas not available to the public, helping them to find their way around efficiently.
Onboard new or temporary staff by helping them find their way round
Provide staff with maps including spaces not available to the public
Increase efficiency and time to task for staff
Map changes appear in real time so your staff will always know the way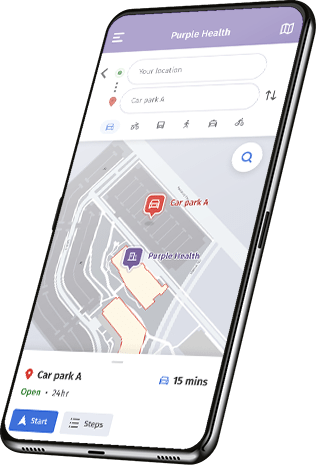 Increase
visitor satisfaction
Provide even more than directions to your visitors to enhance their experience. Give them the information they need while they are in your venue, with interactive maps that can display information about points of interest such as opening times, product offerings or their nearest parking garage
Show visitors key information on points of interest on your maps
Seamless outdoor to indoor navigation and between floors
58k sets of directions displayed in 18 months by Purple customer Croydon Health Services
Cater for accessibility requirements to improve the experience for all
Ready for a demo?
Speak to one of our product experts