Wi-think partnered with Purple WiFi to install a high speed, secure guest WiFi network in Nejmeh Square, Bierut, for the city's New Year's Eve celebrations.
Thousands gathered to watch the light show on the square's art deco clock tower whilst also enjoying over 150 different performances. Beirut was ranked the 7th best location to welcome the New Year by National Geographic, along with the likes of New York, Las Vegas, Rio and London.
After a significant amount of planning, the historical site was covered with a number of UniFi access points to ensure a high-performance network and quality experience throughout the area.
Tala Oubari, Customer Success Team Leader at Wi-think, said: "We wanted to provide a one-of-a-kind experience and that's why we decided to utilize the Purple platform.
"The core aim of the event was to provide fast internet connectivity and to allow users to access the network quickly. With the addition of Purple, we have been able to achieve just that."
A custom splash screen was created to allow users to connect quickly using either Facebook or a short registration form, and to promote the different performers and sponsors of the event.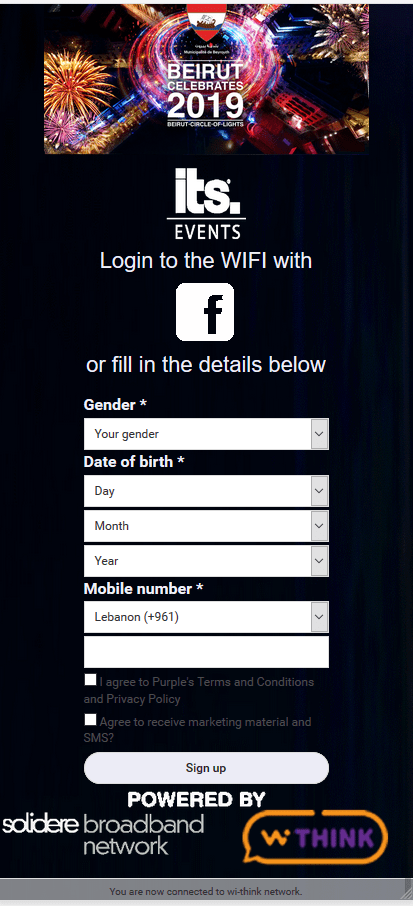 Purple's captive login portal also collected the data of WiFi users and stored it within a centralized reporting dashboard. This data will be used to promote upcoming events in Nejmeh Square via Purple's built-in marketing tools.
Following the success of the event, Purple will be installed at all future Beirut municipality events throughout 2019.