Ask your customers the
questions you need answers to
Collect survey responses quickly, easily, cost effectively and at scale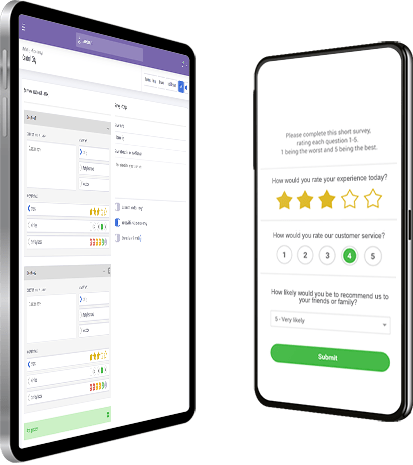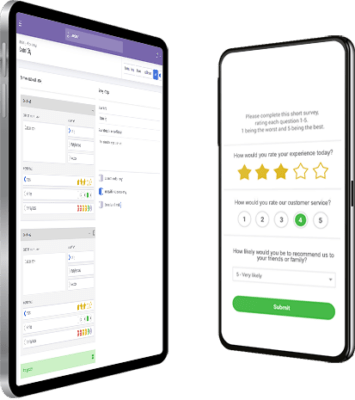 Guest WiFi
How do
Surveys

work?
Create a survey
Build surveys intuitively using our drag and drop designer
Deliver survey to users
Used during the WiFi journey encouraging high response rate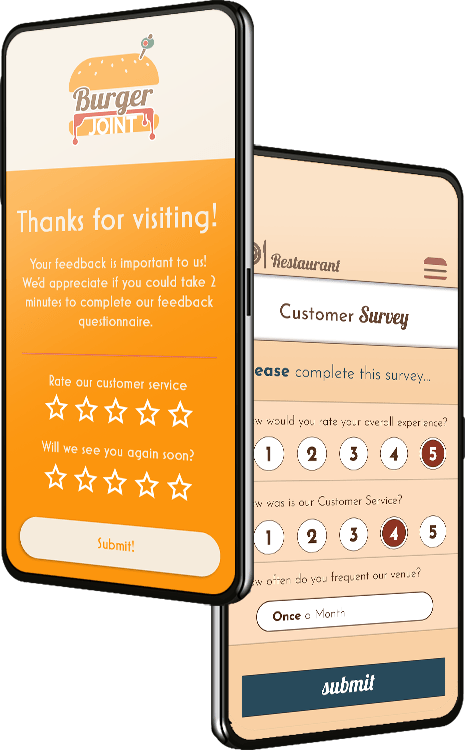 Receive immediate results
Results are instantly available in the Purple Platform
Analyze & Act
Interrogate results quickly and make intelligent decisions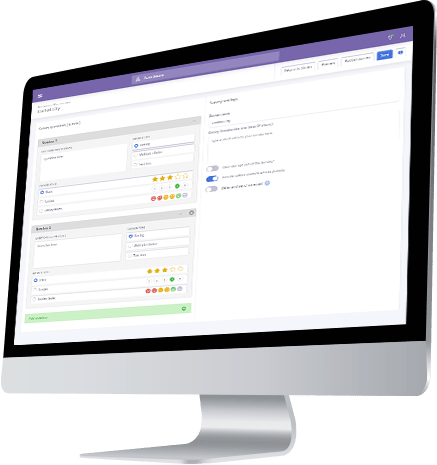 Gather
actionable insights

from visitors at scale

Delivering surveys to customers digitally has been proven to deliver feedback faster and in greater numbers than other more traditional in venue survey collection methods. Users are far more likely to provide you with the information you require when you provide a seamless guest WiFi experience

Automatically survey every WiFi user in real-time

Average 97% survey completion rate across the Purple platform

40% of consumers are likely or very likely to complete a survey in order to access WiFi

Deliver quick surveys to huge amounts of people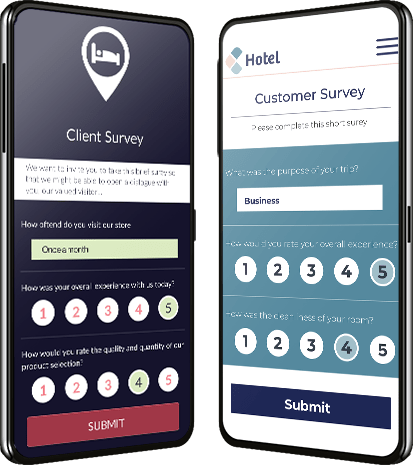 Reduce the cost

of collecting customer feedback

Traditional in venue approaches to surveying your customers usually involve awkward conversations between strangers and subsequently cost a lot of money. Using Purple's Survey functionality as part of your Guest WiFi offering means it will cost you a fraction of the price

Deliver surveys in a way that people like

Average cost of a completed Purple Survey is £0.74

63% of consumers think it is important or very important that brands ask for feedback

No awkward conversations or external suppliers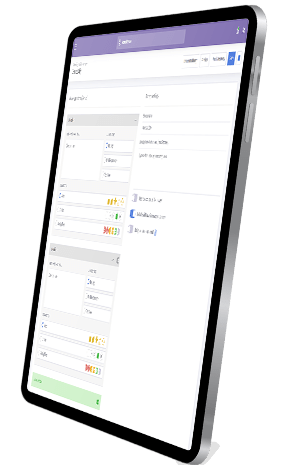 Respond
more quickly

to what your customers say

The best way to respond to customer feedback is quickly. However typical analogue in-venue surveys take time to log the results and get them back to you. Purple Survey responses appear instantly in your platform and are easily interrogated using our inbuilt analytics tools, allowing you to act quickly

Create and launch a survey in minutes

Review results instantly via the Purple platform

Automatically send data to your CRM via API or connector

Store all your feedback in our secure platform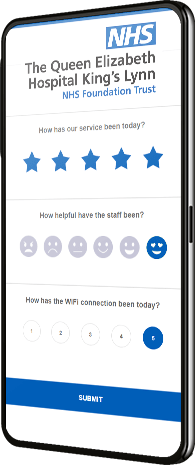 Get feedback from
everyone in your venue

, not just those that purchase or book

If you're only asking for feedback from the lead booker, or via a receipt, you're only surveying a small proportion of your visitors. Everyone logs in to WiFi, meaning you have access to a broader cross section of your actual customers.

66% of consumers say they have not been surveyed in the last 12 months

Get broader feedback from everyone in your venue

Get a more accurate cross section of your visitors

Ask for repeat feedback to see if their experience has improved
Ready for a demo?
Speak to one of our WiFi experts
Avanti West Coast Case Study
Learn how Avanti West Coast Trains captured 791,838 surveys
WiFi Feature Guide for 2023
7 features your guest WiFi must have for 2023 [Free Guide]
Liverpool One
Learn how Liverpool One saved £235k on surveys
Frequently Asked Questions
Businesses can utilize our out of the box marketing automation as well as a number of integrations and professional services to collect feedback with ease.
Create your own feedback survey or choose from a range of templates within the Purple platform. Marketing professional services are also availible for businesses looking to run custom campaigns.
Businesses should strategically time their requests for customer feedback to maximize response rates and gather meaningful insights. For the majority of businesses this would be after a transaction or service interaction.
Collecting customer feedback is crucial as it helps businesses understand customer needs, preferences, and areas for improvement, enabling operations to make data-driven decisions to build stronger customer relationships.