Social login capabilities on captive portals are a great way of increasing login rates. By using pre-existing social network logins such as Facebook, Twitter, Instagram and LinkedIn, you allow users to seamlessly connect to your guest WiFi network.
Simply speaking, social login takes all the effort out of signing into guest WiFi. It also takes the pain out of remembering an old login or filling in a lengthy registration form.
I know for one that I have not connected to WiFi in a venue after realizing I need to fill out a bunch of registration questions.
You need to ask yourself how many others have felt the same way and how this could impact the quantity of customer data you want to collect via your in-store WiFi.
I think it's important to note that although registration forms can be a pain, they are necessary, and should always be included as an alternative method of login, particularly if your target market are aged 50+ or if you are based in a country where social media restrictions apply.
Why social?
It's important to remember that the people that are accessing your network are already engaged with you and your venue. We know that because they are there in your venue trying to connect. So why make it complicated?
Asking customers to fill in a lengthy form or create an account runs the risk that they will abandon the login screen and move on; impacting their in-store experience and your ability to capture key customer data.
Social login provides the seamless connection guests expect.
One of our portal connectors, MailChimp, recently reported a 66% drop in failed logins after introducing social login. Dreamgrow has also reported that 71% of consumers who have had a positive social media experience with a brand are likely to recommend it to others. So why wouldn't you do it?
On a side note – to boost your brands' social media presence and drive extra brand visibility, you can also add social links to your online splash page, or even redirect customers to your social pages upon login. This encourages customers to interact with your brand socially and share their experiences with others.
A golden opportunity
Now we know that customers want social login, and understand the positive impact this has on WiFi login rates, I want to talk a little bit about the benefits to you – the business.
Social login provides a golden opportunity for you to collect rich consumer insights. When guests connect via social media, the captive portal collects data such as full name, email, date of birth, gender, likes, interests, hometown, and more. This data can then be used to create highly targeted marketing campaigns.
Based on our research, a whopping 75% of visitors, out of an estimated footfall of 100,000 per month, will not return to your venue as shown in the graph below.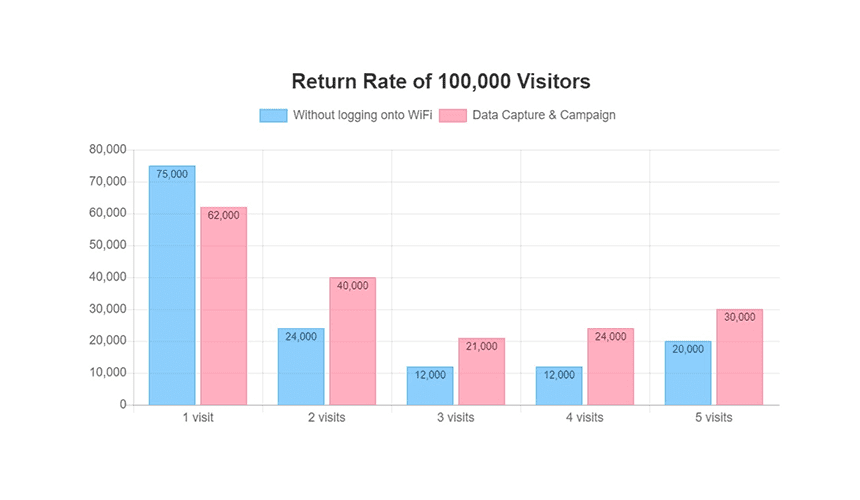 However, you can change this figure very quickly and considerably, once you have offered personalized content. And the rich data collected through social login allows you to do just that.
Learning more about your customers allows you to make proactive marketing decisions that can significantly impact retention rates and lifetime spending. In the same way, it can also give you a chance to identify other key trends such as least popular demographic, most popular age, the busiest time of day etc.
So why not give social login a try! Interested in seeing how it works? Click here to get in touch with us.