What is primary data?
First-party data collection (also known as Primary data collection) can be defined as the data that is collected by you from a direct source to be used for specific purposes.
The main purpose of first-party data collection is to gather information that provides insights into audience demographics and their behaviors. This information can differ based on whom it's being collected by. Keep reading for some examples of different forms of first-party data collection. Because the information collected has come directly from the source, the accuracy of the data should be of the highest quality.
The alternatives to First-party collection are of course Second & Third-party data collection:
Second-party data collection – Data which companies will purchase and can be used for market research or outreach purposes.
Third-party data collection – The collection of information from multiple sources which will contain many data points.
How can primary data be collected?
Primary data can be split into two main categories, qualitative and quantitative.
Qualitative – Descriptive information that can be used to gather insights on subjects or views that aren't very well understood.
Quantitative – Numeric and data-driven insights that can be used to reveal the behaviors of certain people or to confirm internal hypotheses.
Though there are two forms of data that can be collected firsthand, the methods below can be tailored to fit the desired outcomes.
Methods for collecting data first-hand
Free WiFi has been the norm in venues for almost a decade and has been utilized by venues to collect information about their customers in real time. Through portal access customers are able to get internet access in return for their name and email address for example.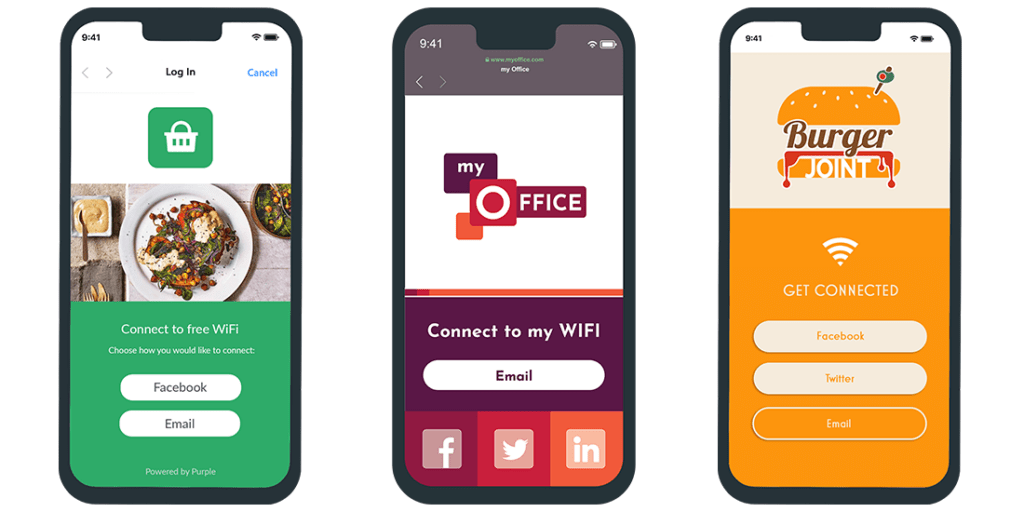 Surveys and reviews are both great examples of primary data collection strategies. Mainly used to understand both primary collection methods can be automated to be sent at the right time to maximize engagement. Customer surveys and reviews can be utilized by companies that want to collect insight on their customer and staff experiences and then make improvements based on the feedback.
Purple customer, Liverpool ONE shopping center had incredible success with a 97% visitor survey conversion rate, an annual saving of £285,000, and more than a £450,000 increase in annual revenue. See the entire case study here Liverpool One.
This example can help businesses to understand how efficiently their venues are being used and where they can be optimized to influence shopping behavior, by monitoring where visitors enter the venue and where they dwell at points of interest new data can be uncovered to inform decisions that positively impact revenue.
Where'd all the cookies go? The loss of 3rd party cookies
Since the introduction of cookies in 1994 enabling corporate websites to become new commercial spaces, we haven't ever looked back. The ability to holistically navigate through your own website as an end-user revolutionized the way in which businesses chose to direct their products and direct the customer experience.
Later development meant that businesses could use the gathered insights to benefit the end-user experience, and use their browser as means of further advertisement. By having a direct link to their customers, businesses all over the world were able to target ads and content to specific. But no longer…
With Google aiming to remove all 3rd party cookies by 2022, cross-site tracking will no longer be an option for businesses. Those that have built their marketing plans around this ability will have to restructure their plans and become a lot more focused on first-party data collection.
In Claravine's blog '3rd-party is dead: How to improve your first-party data strategy' they mention the ways in which enterprise businesses will have to overcome this issue:
"There will be a variety of ways software vendors, companies, and marketers try to address these new challenges, including "device graph," Google's "Privacy Sandbox", non-cookie-based ID matching technologies, publisher alliances, and other experimental means." – Claravine blog author Michael Shearer
So what are some of the methods to fill the gap of 3rd party cookies?
Gating Content, Progressive Profiling, Google Analytics
Gating Content
Gated content is any content that your visitors can access only after providing their information. This form of data collection is one that allows businesses to collect first-party information right at the start of the users' journey or before granting access to high-value content such as eBooks and Whitepapers.
Progressive Profiling
Defined by OptinMonster 'Progressive profiling is a method of collecting relevant information on your leads in small bits rather than asking for too much data all at once.'
By staggering the stages in which business collect their customer information, users are more likely to provide insight if the return is rewarding enough, or provides a good amount of insight.
For example, Purple may release a series of whitepapers, but each paper requires a different amount of data for access:
Wp1 – First name, and Email address
Wp2 – Company name, and position within the company
Wp3 – Company size in employees, and company size in ft2
Google Analytics
Despite 3rd party cookies being removed from Google's services, Google Analytics will still provide users with insight into the performance of their website. Once cookies for cross-site tracking have been removed, Google Analytics will still be one of the most beneficial first-party data collection methods around.
Businesses that have focussed the majority of their efforts on gaining traffic from the ads displayed to previous visitors, will have to shift focus to Goals and Event-based tracking. To capture and understand all of the elements Google Analytics can report on will be very challenging and take a lot of time, however, once set up and working in tandem with new marketing strategies, GA will be a primary source for many businesses.
How is data collection monitored, and what are the legal elements?
We have a full blog on the importance of data security and the legal elements which ensure that personal data is being kept safe. You can find it here.