Croydon Health Services: Saving staff time
Learn how Croydon Health Services (CHS) were able to save 80,000 hours of staff time being wasted through the introduction of digital navigation.

Key Results
Hours
Of staff time saved through reducing the number of interruptions from lost visitors
Reduced
On the cost of missed appointments through providing digital navigation
Total savings
Since the solution was implemented through fewer missed appointments and staff interruptions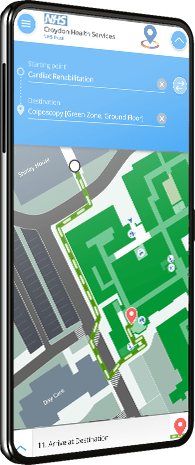 Challenge
With such a large amount of patient and visitor traffic each year, CHS was finding that its 3,800 members of staff were being stopped by patients and visitors looking for directions constantly. With interactions often adding up to 10 minutes a day, this was a distraction from their crucial work.
Although this seems a small amount of time, in reality, the high volume of patients and visitors combined with the whole staff base means over a prolonged period of time this creates a huge time and cost drain. As a result, the hospital was losing 633 hours of staff time per day, equating to a huge £2.1m a year in costs.
CHS sought to implement a comprehensive digital wayfinding solution, which would be available via a mobile application, a website platform, and kiosks situated around the facility, to help visitors and patients find their way around the hospital self-sufficiently in order to reduce staff distractions
10 minutes lost per staff member per day
633 hours of staff time lost per day
Cost of £2.1 million to the health service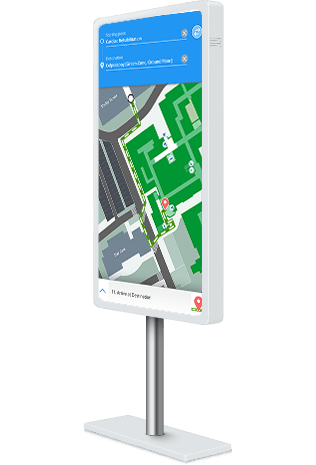 Solution
Purple's web, kiosk, and mobile application solutions were implemented in August 2021. The web and mobile application details can be accessed both on the Croydon website here, and every appointment reminder letter includes a reminder for patients to utilize the solution.
There are seven wayfinding kiosks on the campus, two at the main entrance to encourage patients to use those before asking for directions from staff members, and five are located around the hospital.
Mobile application with blue-dot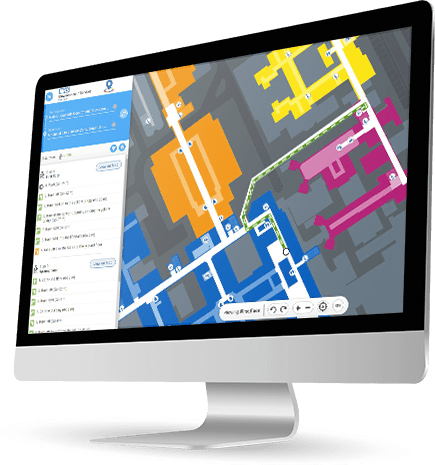 Return on Investment
Since the implementation, 58,465 sets of directions have been displayed to visitors across all three platforms. The most queried navigation locations are the x-ray departments and A&E, helping visitors and patients get to crucial locations quickly and easily.
The introduction of digital wayfinding has saved each staff member approximately 2 minutes of time each day, equating to an approximate saving of £436,905 annually or a total of 80,000 hours reclaimed time since implementation.
Through the use of Purple's web, kiosk and mobile application solutions, Croydon Health Services have saved over £764,583 in staff time, which equates to a huge 80,000 hours of staff time. In addition to this, CHS have saved £730,812 in missed appointment costs. In total, this sums to £1,495,395.
58,465 sets of directions delivered to visitors
80,000 hours reclaimed since implementation
£436,905 of staff time saved annually


About Croydon Health Services
With a capacity of more than 500 beds, CHS provides care for around 27,000 people as elective in-patients a year; 41,000 people for emergency hospital care; 350,000 treated as out-patients and nearly 120,000 people attend the Accident and Emergency Department each year.
In addition to the Trust, the campus also runs Croydon University Hospital and provides services at Purley War Memorial Hospital, in Purley, as well as multiple clinics in the local area.
Ready for a demo?
Speak to one of our experts