In this blog, we'll be discussing the burning questions which surround captive portals and explaining how they work, the types of data they collect, and the great benefits businesses can gain.
What is a captive portal?
The primary purpose of a captive portal is to ensure that only authorized users can access a given network and to provide a means of authentication for new users. This will most often be displayed as a login page (splash page) or a password prompt. Once a user has authenticated, they are granted access to the network and can use the internet as normal.
Captive portals are also used to display terms and conditions or to offer marketing messages to users before granting access to the network. As well as an additional layer of security, businesses can make the most of these portals to capture key insights into customers that enter their physical venue.
Captive portal examples by Purple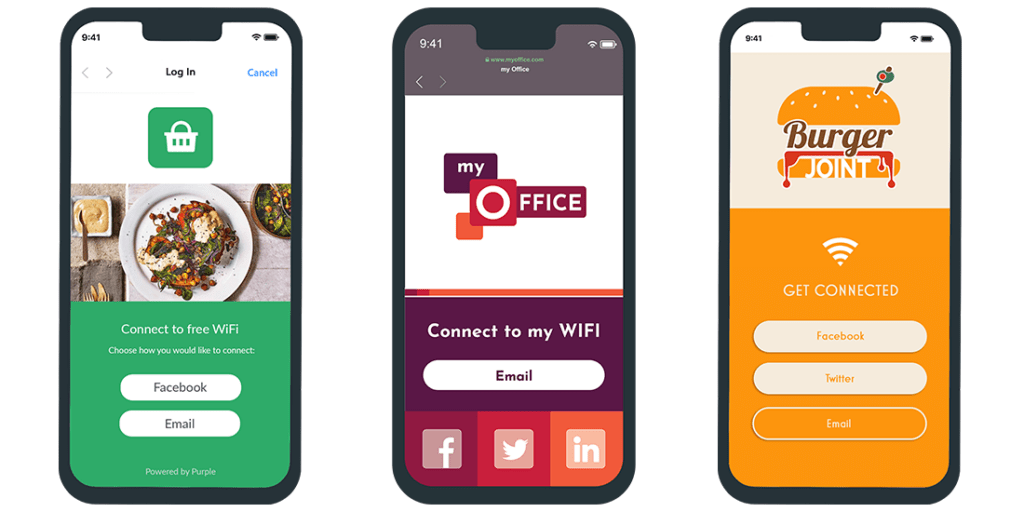 Want to try making your own splash page? Check out our Splash Page Creator.
How do captive portals work?
In technical terms, the captive portal feature is a software implementation that blocks clients from accessing a network until user verification has been established. Verification can be set up to allow access for both new guests and pre-authenticated users. Pre-authenticated users must be validated against a database list of approved user details before access is granted. User information can be gathered using registration forms or enabling sign-in with social media or email accounts.
In its simplest form, end-user captive portals allow access to a business venue's wireless network once users have completed a custom registration form or are authenticated using social media login options. End-user data provided during the authentication stage is collected and stored within pre-existing CRM databases meaning once a user has authenticated they can seamlessly connect during their next visit.
Hosting a captive portal creates a value exchange for both parties, providing end users with access to free internet, and the organization with contact information and key demographic insights. By collecting customer insights, businesses are able to create customer profiles with greater depth, which can lead to informed business decisions that enhance the overall customer experience.
When collecting customer data, or any kind of data, organizations must ensure it's held safely and with restricted access to protect patrons and brand reputation. With the right setup, captive portals are just the first step in attaining a wealth of information.
Different authentication methods – What kind of data can be collected?
Depending on the authentication method used by visitors, there is a range of valuable data points that can be collected, this is also known as 'Primary Data' meaning first hand.
Social WiFi
When authenticating via social media credentials such as Meta (Facebook, Instagram) or LinkedIn accounts, the captive portal will obtain demographic information such as age, gender, location, and social interests linked with their account.
Not only is this the quickest authentication method but it also provides venues with a greater depth into their customer's preferences as social interests connected to their accounts are collected and connected to their CRM profile.
Custom form
Authentication through a custom form is a slightly different method for users to get online as venues set can decide what data they want to collect, which must then be manually entered.
Despite this method not providing the same depth of information businesses still have the ability to directly market with customers enhancing outreach, retention, and upsell capabilities.
WiFi authentication rates and why they're important
If you offer public WiFi in your space, then you should be keeping a close eye on your Authentication Rate. It's the single most important metric when it comes to public WiFi.
You're most likely providing public WiFi for one of two main reasons:
To provide your customers with a great experience
To collect valuable information about your customers
Therefore it's important that when your customers attempt to join the WiFi, they do it successfully, and with minimum fuss. If this isn't happening then your customers are having a poor experience and you're not learning anything about them.
The authentication rate is the metric which shines a light on this magic moment. It tells you what percentage of people who attempt to join the WiFi succeed in doing so.
What can impact WiFi authentication rates?
There are many factors that can affect your authentication rates:
The physical space and how customers behave within it
The login methods provided
User acceptance terms
The number of steps in the journey
Hardware and connectivity
Your message
…plus many more.
Here at Purple, we love showing customers how they can boost their authentication rates. Oftentimes just a small percentage increase can result in a significant return on investment.
We work with customers across all types of sectors globally and here's generally what we see in terms of average performance: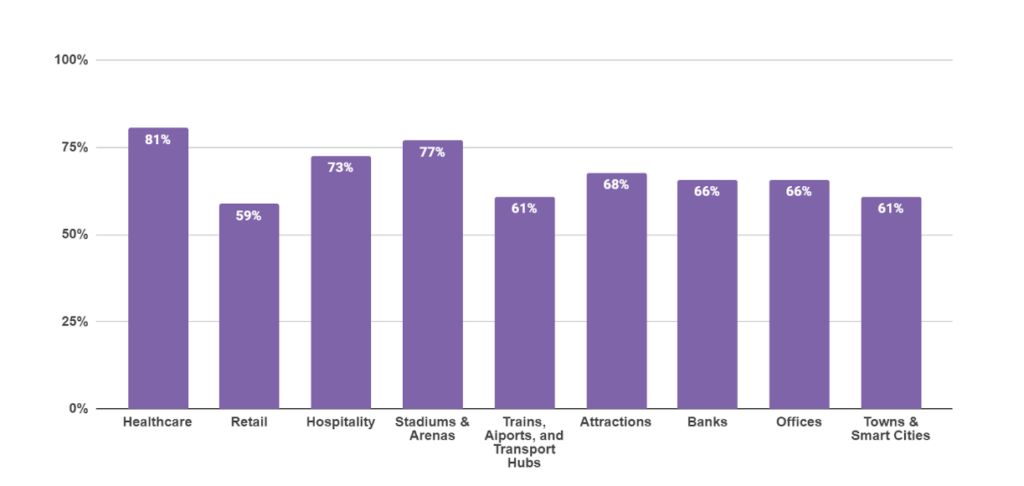 How does your authentication rate compare? Are you above or below the average for your sector?
If you're interested in how you can boost your authentication rate performance then please get in touch to see how we can help!
What are the benefits of using captive portals?
Capture richer data – Allow for progressive profiling with the use of custom fields, allowing you to ask customers to provide additional information as to what you already hold on them, allowing you to enrich your current customer profiles and start to build out more targeted marketing campaigns.
Stops users from hogging bandwidth – Users can hog bandwidth when on the network and slow your system if you're not careful. To prevent this, businesses often create customized plans that place restrictions on things like the number and size of files they can download per session.
Combine with analytics to understand customer behavior – Use reports such as frequency and recency to understand the behavior of your customers.
Generate revenue – Some businesses that use this feature will have guests pay for their usage when they log in, or use the portal as a billboard and sell ad space to other companies.
Protect customers' privacy – Hackers can exploit the security vulnerabilities of guest WiFi connections by setting up a fake wireless network. Customers access their networks instead of yours. It's called phishing. And it's deadly.
How can I introduce my own captive portal?
In order to take full advantage of captive portal benefits, businesses must implement a solution that meets the following requirements:
An easy-to-use user interface – Customers are always looking for an experience they won't forget, and accessing WiFi should be the most straightforward part. Providing a smooth and easy-to-use method of getting online is one more reason for customers to leave a positive review (feedback requests can be prompted during the authentication process).
The capability of gathering information securely – With GREAT data, comes GREAT responsibility! Businesses need to ensure that the data they collect is stored safely and securely. Using HTTPS (HyperText Transfer Protocol Secure) to serve splash screens and retrieve the information provided is the best way to stay safe.
Content delivery mechanism – With all the possible insights that can be collected, organizations must be able to segment, report and take action on them. Ensuring that you have an integrated method to deliver actionable and valuable content to your customers.
Seamless integration with a back-end datastore – By using an integrated CRM (Customer Relationship Management) like Purple's or an implemented one such as Salesforce, businesses can better handle their customers' data, measure sales performance, and reveal actionable insights. In order to continue gathering valuable insights, businesses must enhance their customer offering with deals and reward-based purchasing that integrates with outbound marketing.
The ability to adapt to fit customers' needs – Over time what customers come to expect and their attitude towards a business will change, this isn't a bad thing. Using reviews to understand what customers want and how to use that information is incredibly important, so for businesses, making it easy for customers to tell you is a must.
Once you have these elements in place, you can create and use a captive portal to your advantage.
Check out Purple's WiFi solution and its features!
WiFi Analytics – Get to know your customers and their in-store habits
Marketing Automation – Influence visitor behavior, maximize engagement, and boost profits
Surveys and reviews – Get a complete understanding of customer sentiment and collect reviews, boost your online presence, and beat the competition
Social WiFi – Get visitors online faster using their social media credentials
Tiered Bandwidth – Drive revenue directly from your guest WiFi
Content Filtering – Protect your visitors with content filtering
Multilingual – Guest WiFi as diverse as your visitorsMyData Portal – Protect your business and protect your visitors