Visitors and staff are put off by going into venues and offices due to coronavirus. To ensure business survival, companies and brands need to look to technology to improve the safety and attractiveness of their venues and offices.
Visitors and staff wish to feel safe when going into a store or entering the office, especially in the UK where a recent poll showed that 71% of Brits are fearful of leaving their homes to go to the store or a restaurant.
There are some top-level considerations for bars, restaurants, offices, retail stores, or any public indoor space when it comes to managing visitors and staff:
Consider how visitors and employees will move in congested areas, ensure occupancy control
Reviewing how visitors move through and around the venue (indoors and outdoors) and considering how you could adjust the flow of customers and employees to reduce congestion and contact
Reassuring guests and staff
Even during the Coronavirus pandemic, many business owners still feel that investing in workplace safety will have a negative impact on productivity and finances.
A report by Liverpool Hope University highlighted the link between Coronavirus and the opportunity to improve occupational safety, which all ultimately lead to an increase in productivity and profitability.
The authors argue the point that pandemics and epidemics are not just medical phenomena, they have social, economic, and behavioral consequences that require knowledge and action from all industries.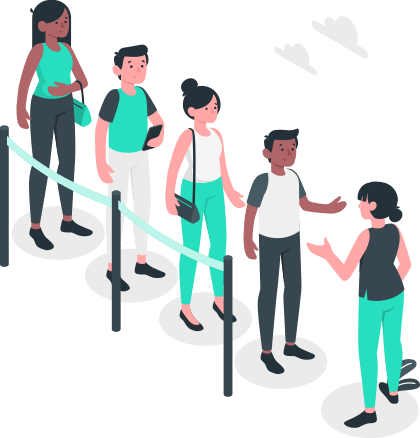 Improving guest and staff safety through occupancy control
Coronavirus has led to a more safety-conscious population, and so the importance of highlighting everything you are doing to ensure visitor safety within your venue is paramount.

Occupancy control allows businesses to improve social distancing, increase the efficiency of operations, whilst ensuring visitors and staff remain safe.
Through accurately counting visitors and staff entering and exiting a venue/office – and monitoring their movement throughout – businesses can optimize their venue safety, comply with government guidance, increase operational efficiency, and reassure staff and guests.
Purple offers an occupancy solution that can achieve 98% accuracy when counting and monitoring visitors in-venue; offering customer confidence and reassurance in the data.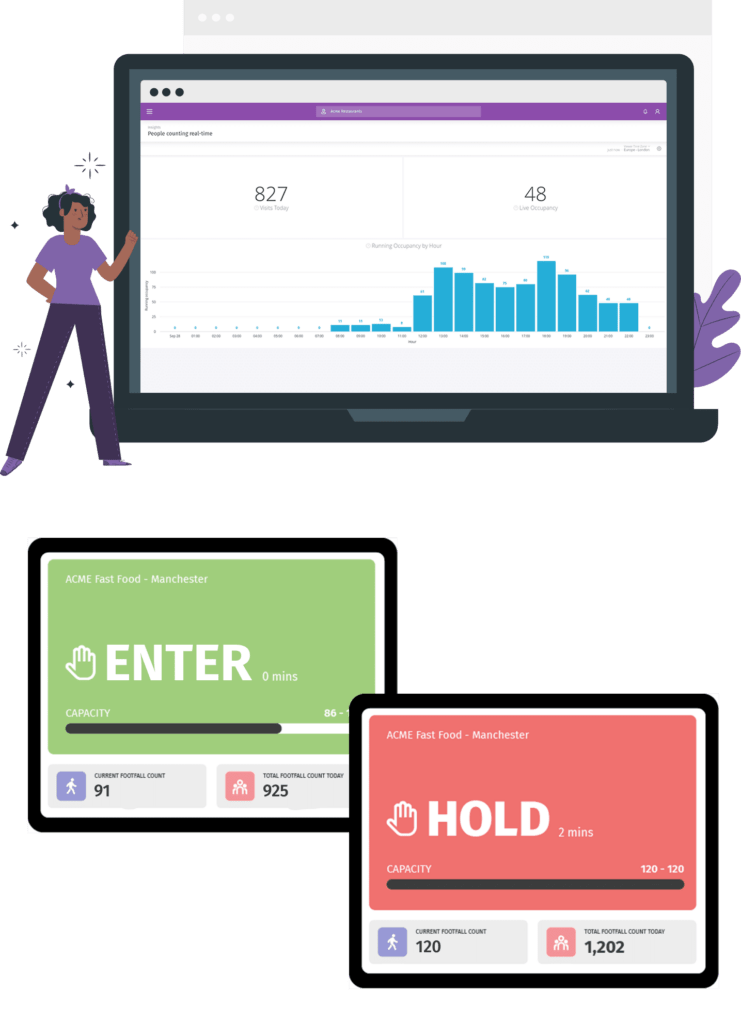 The software has many features such as the ability to automate access control via the use of red and green signals for visitors in large retail spaces through to small offices.
You can also link this information to be displayed on a digital kiosk outside your venue, on your website, or your app, simply updating any potential visitors of the venue's current status.
Venues can also quickly identify what percentage of visitors are or aren't wearing masks, which is compulsory for many venues and public spaces globally.
This data can inform venues as to whether they need to increase their communications and in-venue signage around mask-wearing, or whether they need to put stricter measures in place.