Ringlings College
Ringling College of Art and Design is known as one of the top creative colleges in the United States. At the opening of the state-of-the-art Alfred R. Goldstein Library in January 2017, visitors were treated to Purple's interactive wayfinding technology, which provides directions inside the library and around the campus, as well as digital signage. The large wall-mounted touch screen is featured prominently at the entrance of the building.
Key Results
Acre
State of the art college campus
New
State of the art interactive digital kiosk wayfinding solution
The Challenge
Ringling College of Art and Design currently boasts a total undergraduate enrollment of over 1,600 students and was looking for innovative additions for their brand new library.
They wanted to make sure that students could locate collections of books and study rooms, and as collections moved, they needed an easy way to update those locations in the system.
Additionally, a large group of donors made the library possible, so they wanted a way to highlight those donors. They potentially need to add the donor name to sections within the library, whether on the map artwork on the name of the section within the search.
The beautiful college campus boasts over 48-acres of ground that include more than 110 buildings dedicated to 18 different majors and minors in art and design.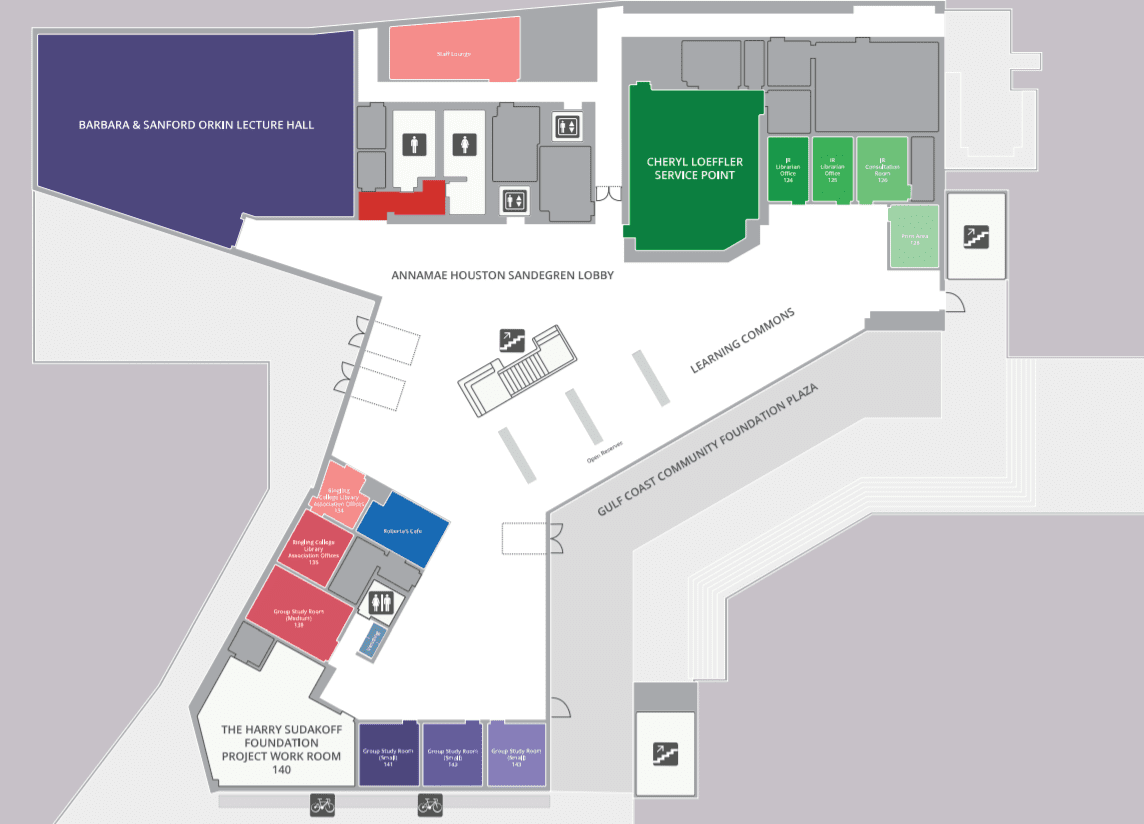 Although an ongoing project, Kristina Keogh, the Directory of Library Services had this to say:
"As a 24/7 space, it has been tremendously helpful for our students to have a way to find their way around our building and to discover our services and collections even when library staff are not available. We also appreciate the opportunity to highlight upcoming programs and share images from past events through Purple's digital signage feature."

The Solution
Ringling's college management opted to install a state-of-the-art digital display screen, powered by Purples interactive wayfinding technology.
This wayfinding technology allowed users to effortlessly navigate the library using turn-by-turn walking directions to points of interest and sections within the library, as well as 30 buildings on campus.
A special page was added within the Wayfinder and to the digital signage to list the names of the donors to highlight their generosity.
In a post-COVID-19 world, it's important that businesses, colleges, and other large venues are adapting to more contactless technology.
Purples' digital kiosks reduced the reliance on reception and other staff and ultimately reduced the potential for virus transmission.
This technology is the first of its kind on Ringling's campus and is representative of the college's commitment to blending design, technology, and art.
About Ringlings College
Ringling College of Art and Design is a private art and design school in Sarasota, Florida. It was founded by Ludd M. Spivey as an art school in 1931 as a remote branch of Southern College but separated by 1933.
Ready for a demo?
Speak to one of our experts